Yoga is a favorite activity for many people. Whether they want to build strength, meditate, destress, or any other of the numerous benefits of yoga.
Carlee Benear:
Yoga helped save Carlee Benear, a mom of three who struggled in the past with postpartum depression. She started doing yoga again when she was having trouble breastfeeding her newborn daughter.
The twenty-nine-year-old mom started practicing yoga while nursing her one-month-old daughter Maramaylee soon after she was born.
She had started doing yoga initially after her second child Cale was born.
She says it helped a lot. She says 'we were struggling, and i think a lot of moms do during those first few weeks.'
She says 'I started my practice back up early after pregnancy because I needed it to help me adjust and relax while we were getting in the swing of all things breastfeeding.'
Carlee adds 'It helped me take the edge off, so little by little I let her join me on the mat to see if it would help her too- did it ever!!'
She adds 'She took to it immediately. Holding poses breathe relaxation into my body, and moving flows relax our minds.'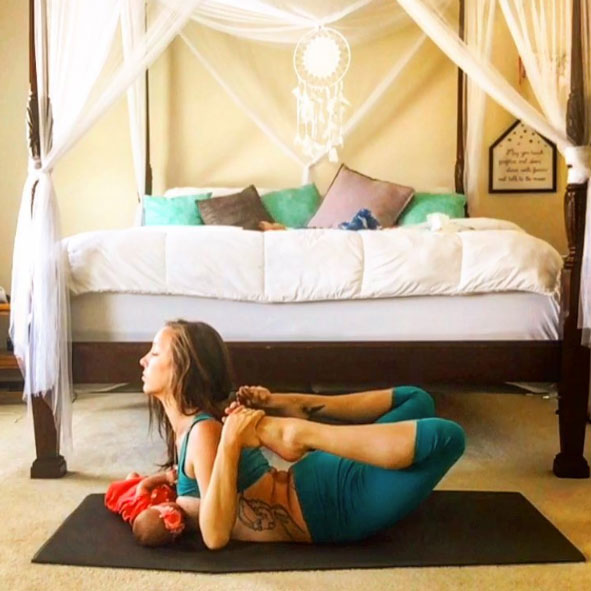 carleebyoga/ Instagram
She says that it's really not any different from moms who sit and feed, moms who have to walk or feed, or moms who bottle feed. Carlee says 'you do what works for your baby.'
Benear says Maramaylee is great at nursing while she's on the ground and Benear is above her in a yoga pose.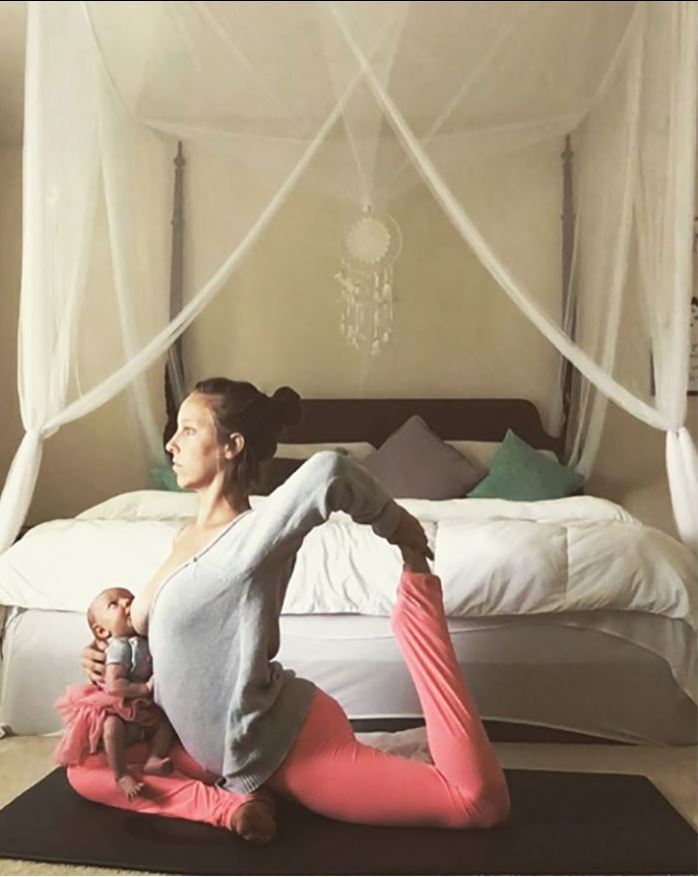 carleebyoga/ Instagram
Carlee says after she started 'feeding and flowing' a 'spark ignited' and she felt 'connected' to her daughter.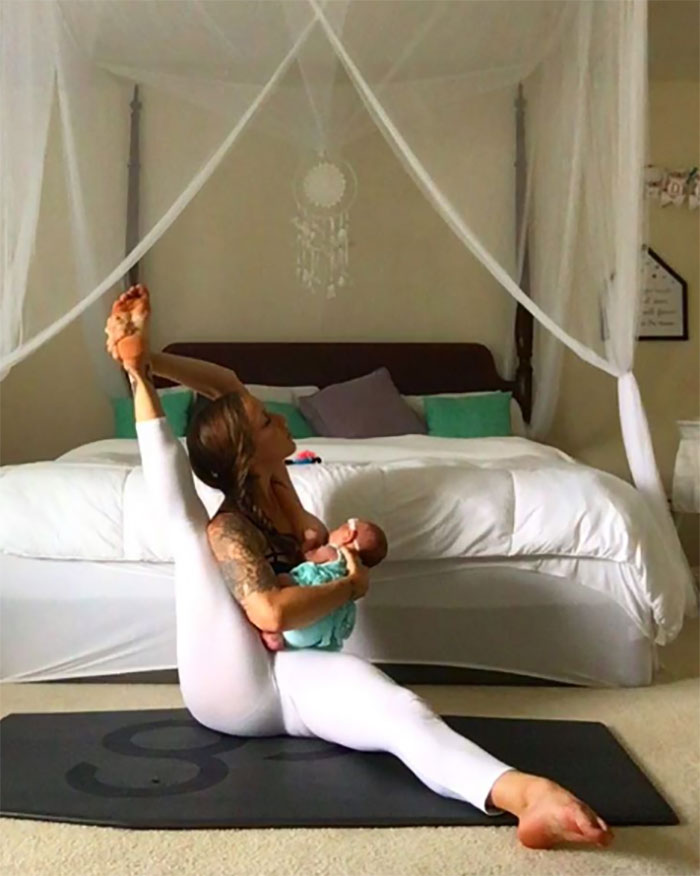 carleebyoga/ Instagram
She says 'we are so busy trying to please everyone else that we forget that the world's happiness begins at home, with us. We need to take care of ourselves, too, as parents.'
Her other two young children like to do yoga sometimes too. She says 'I love seeing what my body and mind are capable of, and seeing my children's yoga journeys light up their control and confidence.'
View this post on Instagram
On her Instagram, Carlee shows amazing photos of her practicing yoga while pregnant. She stands on her head and poses on one arm. She then shows all the different poses she does in yoga while breastfeeding her newborn. She stands, sits and lies down while doing it.
Her other two adorable children like to do yoga with their mom, and there are pictures of them hanging onto their mom while she does yoga.
Carlee first started doing yoga after Cale was born when she said as a stay-at-home mother she 'needed some kind of release'.
She also says 'she does amazing lying down on her back and her side while feeding.' She has received an overwhelming response from her followers.
Carlee's husband Andy is a health and fitness professional, and helps her with her diet and practice.
Carlee says 'I have been overwhelmed with heartfelt messages of inspiration and struggles. So many moms forget that you can't pour from an empty cup, and that's where I fear we let postpartum depression get us.'
carleebyoga/ Instagram
View this post on Instagram